24 Old School Survival Tips
When we'll have no running water, no hyperactive emergency services, no electricity… we are going to turn back to what people did 100 years ago. Here you'll find some "little" survival tricks popular in the early 1900's and (some of them) useful even today.
100 years ago Gallaher Ltd printed a short "How-To" series, with clever hints for emergency situations. The cards were distributed with packs of cigarettes. All the pictures bellow are part of the George Arents Collection, The New York Public Library. Please enjoy the article.
1. How to Extract a Splinter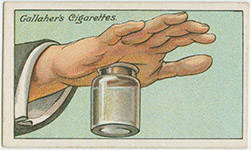 Take a wide mouthed bottle and fill it with hot water nearly to the brim. Now press the affected hand or foot tightly against the mouth of the bottle.
This will then cause a suction and pull the flesh down. The suction plus the steam will help pull out the splinter.
---
2. How to Make an Emergency Water Filter
A handy and efficient water filter can be made out of an ordinary bucket.
First make a hole at the bottom of the bucket.
Instructions: "The water percolates through the layers of fine and coarse sand, and clean picked gravel and stones, with which the pail is filled, filtering through to the bottom in a clear state."
One of the best layers you should add to this bucket is one made of charcoal. Here is an 100-Year-Old Way to Filter Rainwater Directly in a Barrel
---
3. How to Engrave on a Knife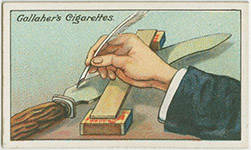 This method was widely used during the Middle Ages and all the engravings in swords or armors. Here are some armors engraved using this traditional way: example 1, example 2, example 3.
Instructions: "The steel to be worked upon should be covered completely with a coating of beeswax. The lettering or design to be engraved can then be drawn with the point of a clean quill pen. This lays bare the metal. A strong solution of sulphate of iron should then be repeatedly poured over the exposed surface for about ten minutes. The more prolonged the action of the sulphate the deeper will the steel be engraved."
Click here for more survival tips.
Want more tips? Check out these great articles on our site:



Comments